ELEMENTRAC CHS-r by ELTRA®
Carbon | Hydrogen | Sulfur Analyzer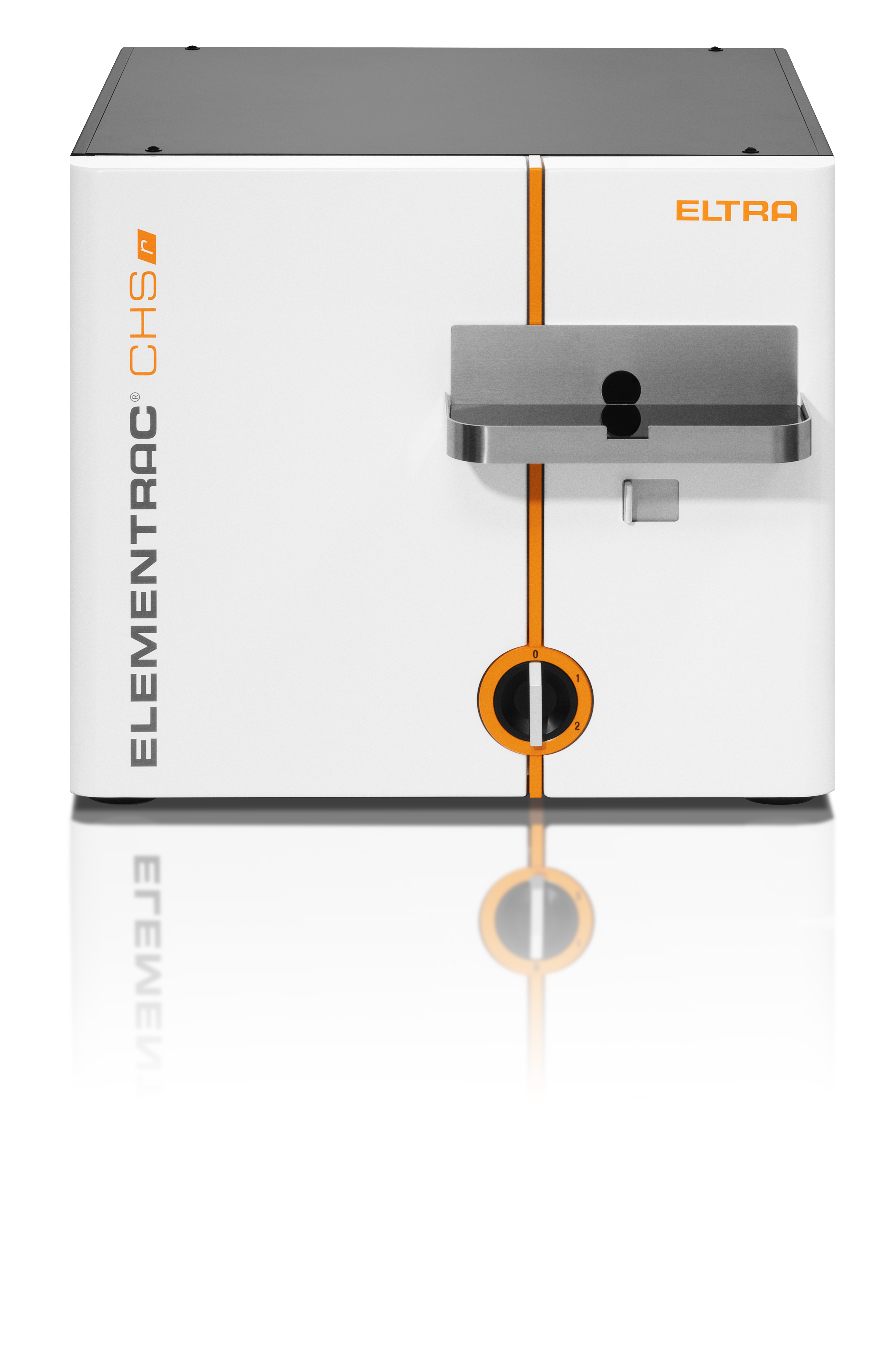 The CHS-r with up to 3 infrared cells is designed for carbon, hydrogen and sulfur measurement over a very wide concentration range. It uses a horizontal resistance furnace with ceramic tube, which operates in a range from 600 °C to 1550 °C. This combustion analyzer has IR detection and is perfect for the safe, precise, and reliable elemental analysis of carbon, hydrogen, and sulfur in predominantly organic materials such as soils, waste, wood, oil, coal and coke.
The ELEMENTRAC CHS-r analyzer determines the elements carbon, hydrogen, and sulfur by combustion of the sample in an oxygen stream and subsequent measurement of the combustion gases CO2, SO2 and H2O in selective infrared measuring cells. A high sample weight of up to 500 mg ensures excellent reproducibility of the elemental analysis results, even for heterogeneous samples.
In the elemental analyzer CHS-r the sample is burnt in an oxygen atmosphere at temperatures up to 1,550 °C. The furnace temperature can be freely selected in steps of 1 °C. The combustion gasses (CO2, H2O, SO2) coming from the furnace and pass through a dust filter, then into the heated H2O infrared cell. After the water vapor is chemically absorbed, the dried CO2 and SO2 gas is detected in the additional infrared cells. Depending on the configuration, it is possible to combine up to three infrared cells with different sensitivities.

The high combustion temperatures and electronic monitoring of the oxygen flow allow complete oxidation of the sample and help to avoid too low results even with challenging materials like cement. Regardless of the selected configuration (carbon - sulfur - carbon/sulfur - carbon/hydrogen/sulfur), operation is identical in all analyzer versions.

The CHS-r combustion analyzer meets or exceeds the requirements of all common ASTM, DIN, EN or ISO standards for elemental analysis.
Typical sample materials: biomass, building materials, coal/ coke, fuels, oil, ores, plant materials, plastics, rubber, soil, soot, tobacco, waste,
---
Looking for consumables for your CHS-r? Click here.
---
ELTRA ELEMENTRAC CHS-r Brochure



Application Examples
biomass, building materials, coal/ coke, fuels, oil, ores, plant materials, plastics, rubber, soil, soot, tobacco, waste,
Product Advantages
Fast, simultaneous measurement of carbon, hydrogen, and sulfur
High sample weight possible
Optimized (low blank) sample port
IR path made of solid gold for extended lifetime
Wide measuring range from 20 ppm to 100%
| | |
| --- | --- |
| Measured elements | carbon, hydrogen,sulfur |
| Samples | organic |
| Furnace alignment | horizontal (resistance furnace) |
| Sample carrier | ceramic boats |
| Field of application | agriculture, biology, chemistry / plastics, coal / power plant, construction materials, environment / recycling, medicine / pharmaceuticals |
| Furnace | resistance furnace (ceramic tube), adjustable up to 1550 °C (steps of 1 °C) |
| Detection method | solid state infrared absorption |
| Typical analysis time | 60 - 180 s |
| Number of IR cells | 1-3 |
| Material of IR path | gold |
| Chemicals required | magnesium perchlorate, sodium hydroxide |
| Gas required | oxygen 99.5 % pure (2 - 4 bar / 30 - 60 psi) |
| Power requirements | 230 V, 50/60 H, max. heating up current 2000 W |
| Dimensions (W x H x D) | 58 x 52 x 75 cm |
| Weight | ~ 77 kg |
| Required equipment | PC, monitor, balance (resolution 0.0001g) |